Rome tour guide Erturk Durmus is a professional Tour Guide based in Rome, Italy. Born in Turkey, his love of Rome started the moment he first discovered his interest about Ancient Roman history in grade school. And when he continued to his life Italy he knew that he wanted to live in Rome.
Upon graduating from a military high school, Erturk left the military of his own accord and he has got his bachelor's degree in civil engineering. Still captivated by Rome's innate beauty, he immersed himself, in Roman art and archaeology studies. Erturk entwines his technical background with archaeological information during his tours.
Currently, Erturk proudly serves as the Official Tour Guide of both Rome and the Vatican and he received his license from Municipe of Rome. With his extensive knowledge of Rome's history, he aims to provide an all-encompassing and reliable experience for his guests that entertains and educates.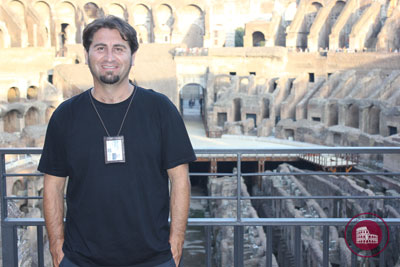 Throughout the span of over a decade, Erturk has successfully hosted group and private tours for prominent journalists, artists, business people, CEOs, military commanders, university professors, engineers, and various other professionals.
When he isn't giving grand tours of Italy's history-rich capital, Erturk Durmus enjoys traveling with his family, exploring new places, reading books on ancient history & art. He also has an avid interest in ancient engineering.